Discussion Starter
·
#1
·
Three days ago we set a record with 80 degrees and today snow down to the valley floor! I'm at 500 ft. and here's my place!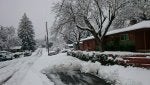 Well, at least I did get some shroom hunting in before all this mess; with the drought for the last three years, I was starting to get withdrawls! I did find some Blewits and some Boletes (Suillus luteus actually). The first Blewits were some of the most purple I've gotten. Also had some Armillaria mellea in the back yard! I'll be headed back out after the snow melts!
So I did find one :real" Bolete and some pretty big Jack-O-Lanterns too! I'll be posting more soon. Happy Shroomin'......